With summer in full swing, it's time to dust off your sneakers and get outside to explore the city. Detroit is an electric and thriving city that appeals to individuals from all walks of life, so there's no shortage of things to do in the ever-changing city of Detroit.

Whether you enjoy running, taking your dogs for a walk, or having a relaxing afternoon in the park, this city provides ample opportunities to spend time outdoors. Read on to discover ten of our favorite picks for ways to get outside this summer in Detroit.
1. Detroit Riverwalk
If you enjoy romantic strolls by the water or watching the sunset, then you'll want to head straight to the Detroit Riverwalk. Named the Best Riverwalk in the Country in a 2021 USA Today competition, this spot is worth checking out.

In 2003, the nonprofit Detroit Riverfront Conservancy began working with the foundations, corporations, governmental entities, and community representations to build a river walk that would eventually stretch over 5 miles from the MacArthur Bridge on the east to the Ambassador Bridge on the west. The project is currently still in process, as only 3.5 miles are complete.

This transformation is more than just a riverwalk. The area has also added new housing, restaurants, and a plethora of new and exciting businesses to attract approximately three million people annually to the city's riverfront. On any given day, you can expect to find cyclists, joggers, and individuals enjoying a pleasant stroll on the wide, well-kept path that weaves its way between well-manicured lawns. You'll also notice people scattered about on the luscious grass, reading, relaxing, or picnicking. Regardless of what you do, you'll be sure to leave some time spent here feeling rejuvenated and refreshed.
2. Beacon Park
Connect with nature by visiting Beacon Park. This park attracts visitors from across the city with its spacious green space, year-round events, and restaurants that offer rooftop seating with panoramic views of the park and city skyline.

There's also plenty of exciting events that take place here that you won't want to miss! Check out the Family Fun Days, or stop by for the Night Markets and enjoy some live bands and great food. If you're new to town, this park and its colorful activities provide the perfect way to get to know your neighbors and make some new friends.
3. Detroit Zoo
Located just two miles north of the Detroit city limits, the Detroit Zoo offers fun and entertainment for the entire family. It is also the largest paid family attraction in Michigan and draws in more than 1.3 million visitors annually. The zoo is situated on 125 acres with many naturalistic habitats and is home to more than 2,000 animals of 237 various species.

Major exhibits include the Polk Penguin Conservation Center, Arctic Ring of Life, Australian Outback Adventure, Great Apes of Harambee, National Amphibian Conservation Center, Holden Reptile Conservation Center, and the Butterfly Garden. In addition to the animals, the zoo - which is located in Royal Oaks - offers plenty more exciting attractions. Check out the Science on a Sphere, 4-D Theater, Simulator, Carousel, Tauber Family Railroad, Rackham Fountain, and the Giraffe Encounter. The zoo offers events year-round, ranging from the Wild Lights to Breakfast with Santa and Boo, so no matter the season, there's always something exciting taking place at the Detroit Zoo.
4. Comerica Park

Nothing says summertime like a good, old-fashioned baseball game! Luckily, you can experience that at Comerica Park in Downtown Detroit. Comerica Park is an open-air ballpark home to the Detroit Tigers of the MLB (Major League Baseball). The park opened in 2000 for Detroit Tigers fans and beyond to enjoy a fantastic baseball experience.

From any seat in the park, you can catch a spectacular view of the Detroit skyline. In addition to some riveting baseball games, Comerica Park has also hosted some of the biggest entertainment acts in the world. Additionally, Comerica Park is not the only sports facility in the neighborhood. Ford Field, which is the new home of the Detroit Lions football team, is located right next door.
5. Dequindre Cut
If you're looking for someone to go for a bike ride or perhaps take a walk, then head on over to the Dequindre Cut Greenway. Formerly a Grand Trunk Railroad line, the Dequindre Cut is predominantly a below-street greenway that runs parallel to St. Aubin Street and just north of the riverfront. Developed through a public, non-profit, and private partnership, the greenway opened to the public in 2009.

This two-mile urban recreational path offers a pedestrian link between the East Riverfront, Eastern Market, and a handful of residential neighborhoods in-between. While here, be sure to keep an eye out for the urban artwork and graffiti. The greenway also features a 20-foot-wide paved pathway, which offers separate laws for pedestrian and bicycle traffic. The path offers a unique perspective of the city of Detroit and provides a great way to get some exercise.
6. Drive-In Movie
An outdoor movie is the epitome of summer fun, and you can experience that for yourself at the Ford Drive-In! Located in Dearborn, this drive-in movie theater is located just a few minutes outside of Detroit. It features five screens, making it the largest in the state.

If you're craving a little something to snack on during the movie, head over to the concession stand to grab some tasty treats. Ford Drive-In is proud to operate year-round, so no matter the season, you can enjoy the movie from the comfort of your car!
7. Detroit River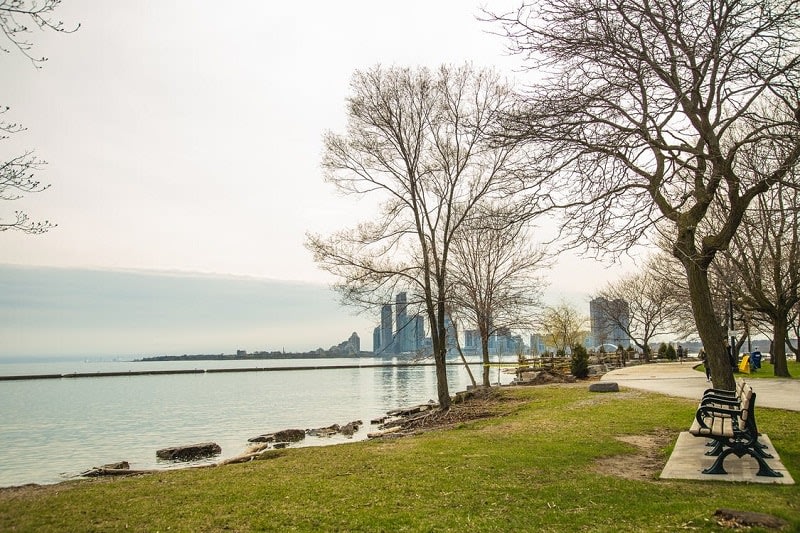 There's little that's more refreshing than beating the heat and spending some time on the water. Luckily, you can do this at the Detroit River! This river spans over an expansive 28 miles long and serves as an international border between Canada and the United States. From the water, you can experience the beautiful skyline of Detroit and Windsor.

If you're wanting to spend some time on the water, rent some kayaks from Detroit River Sports. You can also opt for a paddleboard tour of the Detroit River and the islands of the city's east side. With multiple adventures to choose from, you can find something that suits you. This river adventure will be an unforgettable summertime experience.
8. William G. Milliken State Park and Harbor
If you're looking to connect with nature, spend the day at William G. Milliken State Park and Harbor. Situated just east of Downtown Detroit, this public recreation area is nestled on the Detroit River on a portion of the city's International Riverfront. The state park is spread over 31 acres and comprises wetlands, paved trails, and a 52-slip harbor of refuge. There's plenty to do here -- from picnics, walks, fishing, and so much more.

This state park is considered a true green oasis in the heart of the city. Committed to sustainability, the harbor is a designated clean marina, and green management efforts are a top priority. For example, the park utilizes energy-efficient LED lights, native landscaping plants, recycling receptacles, and plenty more environmentally-friendly efforts. Keep your eye out for the plethora of wildlife found here, including geese, hawks, pheasants, muskrats, and foxes.
9. Belle Isle Park
Another great option for some outdoor exploration this summer is Belle Isle Conservancy. This massive 982-acre island park was developed in the late 19th century. Affectionately named the "Jewel of Detroit," this park offers historical, environmental, and cultural resources. Loved for generations, it has become an important part of the community.

The island has a unique ecology and features approximately seven miles of shoreline. More than half of the island is covered by three lakes, a lagoon, and 230-acres of forested wetlands. There's plenty to do on this island, from exploring to picnicking, so it's needless to say that there's something for everyone here!
10. Campus Martius Park
If you're looking for some fun for the whole family, head to Downtown Detroit to check out Campus Martius Park. This public square has won countless awards for public space design, operations, placemaking, and programming. It was also named "Top Public Square" by USA Today.

The park features an urban beach and expansive lawn, so during the summer, the park becomes a popular spot for food and wine festivals, movie nights, fitness classes, and headline concerts. While this spot is known for being an active event space, it also serves as a beautiful urban park that enables visitors to unwind and escape from the hustle and bustle of city life.

If you are looking to explore homes for sale in Detroit, contact Austin Black today. As one of the most sought-after Detroit Realtors, Austin serves a wide range of neighborhoods. Whether you are looking for a forever home or a vacation spot, he is ready to help guide you through the home buying process.