Detroit, also known as the Motor City, is famous for its innovation and strong work ethic. However, this once well-known auto industry hotbed underwent some devastating effects in 2008. People were unsure if the Motor City would ever recover. As a result, Detroit has attracted many new real estate investors who wish to purchase property when prices are affordable. As the city flourishes and expands, high-end retailers and high-tech companies are moving in — excellent news for the housing industry and investors. Given the city's expansion and restoration, now is the best time to invest in Detroit real estate.

Current Detroit housing market trends show that home median list prices are steadily rising as the city blossoms. Detroit is a buyer's market, with a multitude of homes beckoning eager investors. With a median listing home price of $79,900, the time to purchase a Detroit home is now! As the city improves, so do its various neighborhoods. In particular, Bagley, North End, and Islandview are up-and-coming communities worthy of purchasing a new home that will surely appreciate in value over the years.
Bagley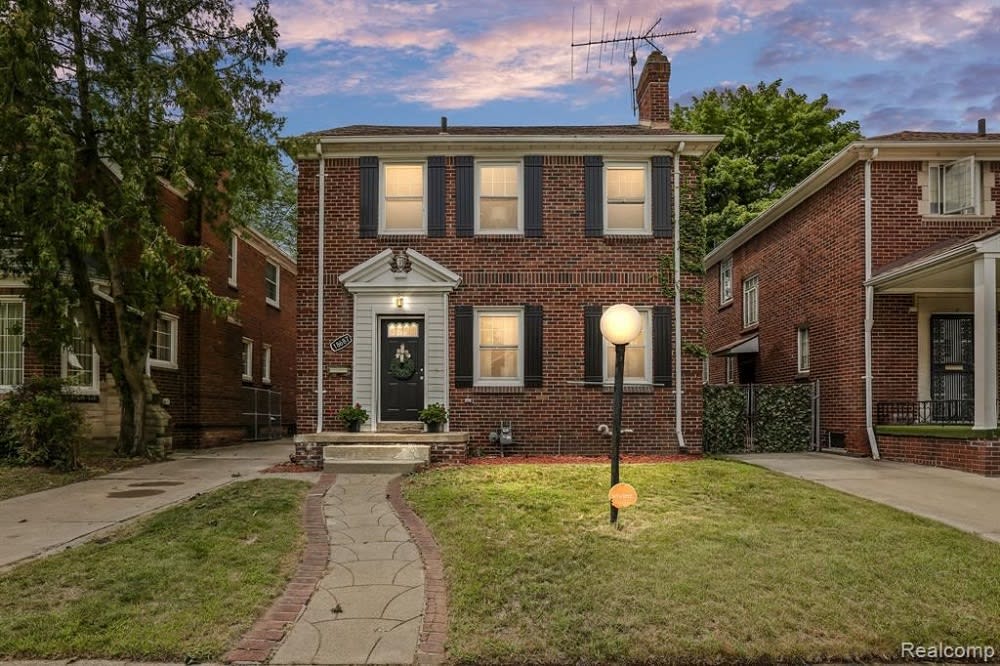 Bagley rests on Detroit's northwest side, and it is one of the most popular neighborhoods in the city. Bagley is a quaint 1.2 square mile community offering a sparse suburban feel and a plethora of cafes, restaurants, and parks nearby. The beautiful architecture is a testament to Detroit's extraordinary past. While most Bagley homes are stately brick colonials and Tudor Revivals, no two houses look the same. Every home has a unique charm and design, built with precision and craftsmanship by Detroit's most prominent builders in the late 1920s to early 1940s.

The Bagley housing market is somewhat competitive, with some homes getting multiple offers. Average homes move to pending in roughly 15 days, while hot homes are pending in as little as six days! The median list price of homes was $164,900 in August 2021, trending up 27.7% year-over-year. People are eyeing Bagley more and deciding to invest in real estate while property prices are still affordable. Due to Bagley's many changes, investing in property now could reap some serious future benefits.

Livernois is the "Avenue of Fashion," and it features various cafes, eateries, shops, and services. This is one of the city's most dynamic commercial strips. There are plenty of delectable soul food restaurants to appease all your comfort food cravings. Start your mornings with a delicious Brew of the Month and prosciutto and parmesan croissant from The Narrow Way Cafe or one of their other exceptional baked goods and coffee beverages. Meet friends at Kuzzo's Chicken & Waffles for some Southern-style delights, including sweet tea, collard greens, shrimp and grits, and scrumptious fried chicken. Stroll along Livenois to eat, shop, and get a strong sense of Bagley's essence.

Beyond Bagley's many eateries and beautiful homes, it is located near some of the best educational institutions in the city. The School at Marygrove offers a unique Cradle-to-Career educational facility that provides academic opportunities as early as prenatal care and continuing through post-secondary education for approximately 1,000 Detroit children

The University of Detroit Jesuit High School and Academy is located on 7 Mile, along the northern end of Bagley. Additionally, one of the best universities in Michigan is nearby, the University of Detroit Mercy, known for its prestigious law school and dentistry program. Between the excellent schools, beautiful residences, and plethora of shops and eateries, Bagley is quickly becoming a highly sought-after Detroit neighborhood.
Islandview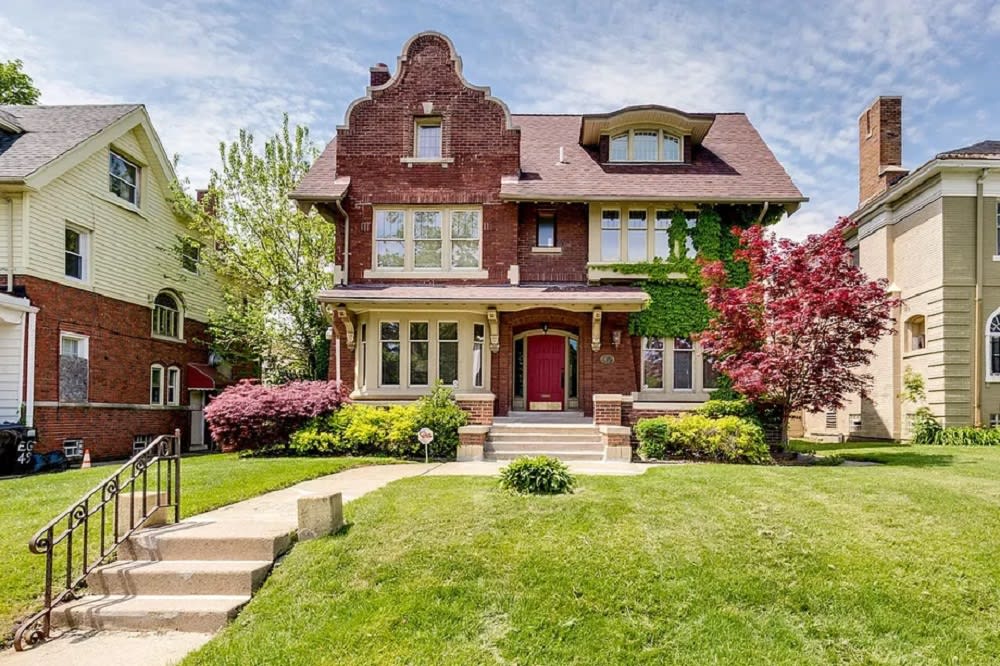 Home on East Grand Blvd. Credit: Andy Schwartz - Stylish Detroit Real Estate Photography
Situated just west of West Village, Islandview is named for its proximity to Detroit's island park, Belle Isle. This charming enclave is undergoing some major renovations with the help of the Detroit Planning and Development Department. The department has a detailed Neighborhood Framework Plan for near-term implementation initiatives and long-term recommendations, as well as guiding principles to further neighborhood growth over time. This plan will preserve existing affordable housing, rehabilitate city-owned single-family homes, preserve civil rights history in the planning area, and so much more. These pertinent community changes will lead to a better, more community-oriented Islandview that residents can be proud to call home.

Islandview is a member of The Villages family. With plenty of gorgeous new residential developments underway in the region, there is no better time to purchase some Islandview property. As far as available Islandview homes, the median listing home price is currently $169,500, making it a great time to close. Even though Islandview housing market property prices are trending down 15.2% year-over-year, buying a home here now could mean a significant pay-off down the line.

Owning property in Islandview puts you within proximity to the 982-acre Belle Isle Park. The park is home to the Belle Isle Aquarium, Anna Scripps Whitcomb Conservatory, Dossin Great Lakes Museum, Belle Isle Nature Center, the James Scott Memorial Fountain, and more! Though there are few shops and restaurants within neighborhood limits, you can take a quick trip to West Village just a few blocks away to enjoy various restaurants, shops, bars, and fitness studios. With so many residential renovations and upgrades happening in Islandview, it's an excellent Detroit neighborhood to invest in.
North End
The North End was once an agricultural community, evident in its housing stock of bungalows and farmhouses, many of which are over 100 years old. Many abandoned homes have been demolished, giving locals the chance to take advantage of the side lot program developed by Detroit Land Bank. The program allows homeowners the opportunity to purchase a vacant lot adjacent to their home for a mere $100. This certainly makes for a lucrative opportunity for those considering moving to North End and buying property.

Many changes are deeming the North End a desirable community. North End has recently seen exciting transit-oriented developments, including the QLine, protected bicycle lanes, and MoGo bike share stations. These features have skyrocketed property values in Midtown and Downtown, making the neighborhood a more desirable place to rent and buy property. The current median listing home price in North End is $200,000, trending up 135.3% year-over-year, a visible and drastic change due to various progressions throughout the neighborhood.

There are additional updates to North End that will significantly improve the community. Detroit residents living in North End will also see new investments in their community soon. The Knight Foundation is funding two projects, collaborating with Vanguard Community Development and Taubman College to redesign the street landscape and build a new library. More community signs will be installed, and public art will be strewn about the boulevard. Since 2018, Develop Detroit has been investing in North End homes by leveraging $4.2 million for the betterment of the neighborhood on a block-by-block basis, beginning with nineteen new homes.
Now is the perfect time to purchase a Detroit home. Reach out to esteemed Realtor Austin Black II to assist in your search for North End, Islandview, or Bagley Detroit real estate.