Sherwood Forest was developed in
1917
and features an array of unique homes. This charming Detroit enclave is populated by several architectural styles, including Cape Cod, Colonial Revival, Mediterranean, and more. Most homes were built during the 1920s and 30s, giving a glimpse into the designs of yesteryear. Below we will delve further into some of these styles to better understand the region's rich architectural history.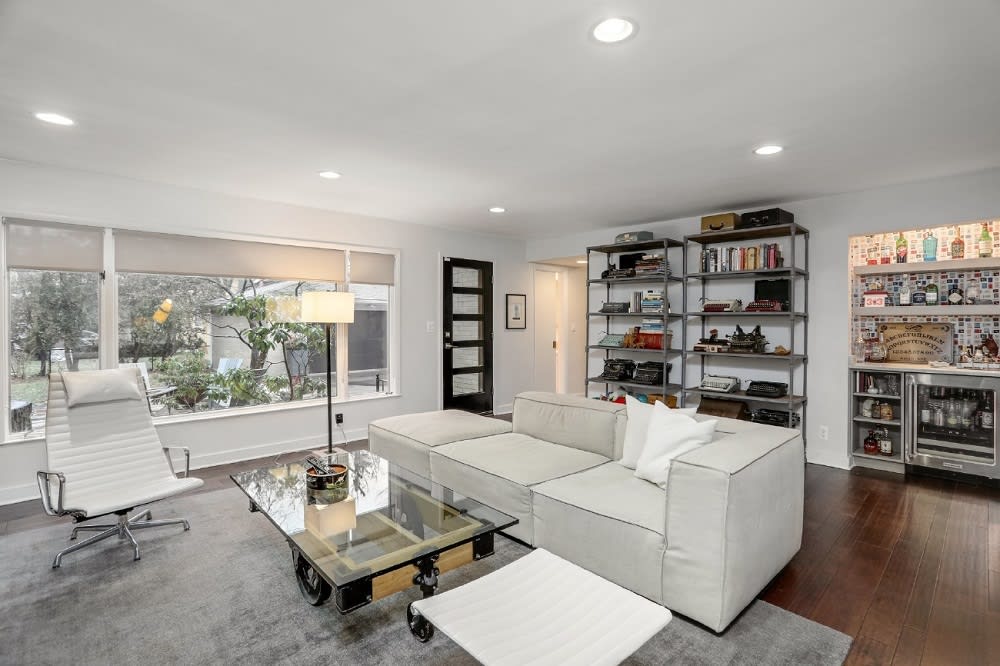 Mid-Century Modern
In the mid-twentieth century, design moved toward crisp, clean lines and streamlined styles. Coming into popularity between the 1940s and 1960s, this style evolved from Bauhaus architecture, which swept through Europe in the 1920s.
Typically, Mid-Century Modernism focuses on a connection between the indoors and outdoors environments by utilizing glass predominantly throughout the home as well as other natural materials, such as exposed wood or stone formations. Additionally, you'll often find homes from this era touting simplified floor plans that allow for natural movement throughout the house — the predecessor to today's open concept designs.
A few common characteristics you should expect in Mid-Century Modern properties include:
Geometric lines, often including flat roofs
Split-level spaces
Post-and-beam wall construction
An emphasis on natural building materials

Colonial Revival
Colonial Revival
is a tried-and-true architectural style in America. This approach dates back from 1880 to 1960 and remains one of the most frequently produced designs. Many Colonial Revival properties of various forms can be seen across the country. In fact, this architectural style continues to affect new home builds today and is rooted in the nostalgia of Federal and Georgian architecture.
Comparable to other revival varieties, the Colonial Revival style did not create genuine copies of earlier types. Some particular design elements of this form include front facade symmetry, entryway fanlights, sidelights, pedimented doorways, porches, and dormers. These minute details can be combined in many ways, a practice that has created many subtypes within the Colonial Revival style.
Additional identifiable features include columned porches, pedimented windows or dormers, pilasters, and symmetrical facades. Roofs are side-gabled or hipped. Windows are double-hung and are often multi-paned bay windows, paired windows, or triple windows. Shutters are made of wood and often display etched patterns. Cornices feature ornate dentils or modillion brackets. Attention to detail and ornamentation are fundamental to Colonial Revival-style estates.
There are a few
Cape Cod
residential properties, a subtype of Colonial Revival, in Sherwood Forest. These affordable abodes were favorable during the Depression era. Some defining Cape Cod features include:
Symmetrical facades with a centered front entry
Steep roofs with side gables
Small roof overhangs
1 or 1.5 stories
Wooden frames with lap, shake, or shingle siding
Gabled dormers
Multi-paned, double-hung windows with shutters
Simple exterior embellishments

Mediterranean
Mediterranean
-style residential architecture draws elements from various influences, especially Italian, Portuguese, Spanish, and neighboring Mediterranean sources. It evolved to include design components from France, Morocco, and Greece, among others. Mediterranean-style architecture is also known as Spanish-Colonial, Mission Revival, Neo-Mediterranean, and Moroccan. Though its approach is complex, the general focus of Mediterranean residences is creating a peaceful and natural oasis.
The three defining subtypes include the Italian Renaissance, Spanish Revival, and Modern Mediterranean.
Italian Renaissance features arches and columns, drawing significantly from the 16th century Italian Renaissance. This style is the most elaborate and grand form of Mediterranean architecture.

Spanish Revival is influenced by the architectural ideas of Spanish settlers in 16th-century America. These homes are generally single-story, with clean lines and low-pitched clay roofs.

Modern Mediterranean has a more luxurious vibe with resort-style living at its core. These builds feature large, open floor plans, expansive kitchens, and indoor-outdoor living spaces.
Although each style does have its defining features, Mediterranean homes still retain distinct overall qualities. Mediterranean-style homes are one to two stories and boast large, symmetrical exteriors. Entryways are typically centered and bordered by soaring, wrought-iron gated windows. Roofs are usually laid with red clay tiles in a half-tube shape, which drains rainwater efficiently and keeps the home cool on hot summer days.
Stucco textured walls are frequently used indoors and out. Thick stucco walls keep the house cool or warm as the weather fluctuates. Archways are built for structural support and aesthetic purposes, sometimes featuring colorful handmade tiles or mosaic glass. Additionally, Mediterranean homes are built with natural surroundings in mind, creating a flow between the home interior and outdoor living spaces.
Neoclassical
A revival of Classical architecture, the
Neoclassical
approach focuses on symmetry and formalism in response to the informal, asymmetrical Victorian builds. This style was popular in the US from 1890 to 1920 and was used for many Detroit commercial buildings, while residential structures erred toward the Mediterranean style. Neoclassical architecture is inspired by Roman and Greek styles, particularly Doric details.
Crucial characteristics that define the Neoclassical style include grand scale estates, simple geometric forms, dramatic columns, and domed or flat roofs, depending on the design. Columns come in even numbers and support full-height front porches. Columns are typically Doric in style, though they can also be Corinthian or Ionic. Entryways are ornate with triangular pediments for added allure. Windows are evenly spaced and flanked by shutters, reiterating the symmetrical foundation of Neoclassical style.
There are three central variations in Neoclassical architecture.
Temple-style mimics the flair of ancient temples, such as Paris' Panthéon, based on the Roman Pantheon, and the Greek-inspired British Museum in London.

Palladian buildings are inspired by architect Andrea Palladio's villas of the 16th-century Italian Renaissance. The White House and the US Capitol are the most well-known Palladian examples of Neoclassical form.

Classical block buildings are square or rectangular, often featuring flat roofs and exteriors displaying repeating arches or columns to form a block-like appearance.
Tudor Revival
Tudor Revival
is a beloved, distinct 20th-century architectural style found throughout the United States. American Tudor Revival draws inspiration from the late Medieval English Tudor style. This structural design is whimsical, mimicking a fantasy version of old English country life. This charming style became popular in the US around 1895, peaked in the 1920s and 30s, and died out in 1945 as more affordable post-war Cape-Cod homes were on the rise. Tudor Revival is reminiscent of Arts and Crafts ideals, rejecting over-the-top Victorian and Industrial-style homes in favor of exceptional craftsmanship and nostalgia for simpler times.
These historic properties remain a fan favorite, and many 20th-century examples are peppered throughout suburban neighborhoods, including Sherwood Forest. There are many design elements specific to Tudor Revival. The homes range in scale and nature from modest cottages to suburban homes to expansive, manor-like estates. Builds typically use natural materials and utilize stone, brick, or stucco for the exteriors. They often feature half-timbered exterior walls with stained or painted wooden beams to mirror the darkened oak used in the Tudor era.
These homes are one to two stories and often have an overhanging second story. Asymmetrical in form, Tudor Revival homes feature multiple gables and eaves. Windows are tall, multi-paned, and are often leaded glass with diamond-shaped panes. Signature Tudor pointed arches are used on doorways and windows. Additional features include parapets, steeply pitched shingle roofs, cross gables, and large-scale brick or stone chimneys, sometimes built with multiple openings. Wood-paneled walls, dark wooden beams, doors, and wall frames, wide plank oak floors, broad wooden staircases, and wall treatments mimicking aged plaster are all original Tudor Revival interior design elements. Tudor Revival residences are an integral part of history's past and present, from half-timbered suburban homes to fairytale thatched-roof cottages.
Find a Detroit Tudor Revival or Arts and Crafts home to call your own with help from real estate agent
Austin Black II
. Whether you seek Sherwood Forest homes for sale or want to explore other Detroit real estate, Austin will guide you to the ideal home for you and your family.