The real estate market in Birmingham and the rest of the Detroit area is as hot as the summer weather. With the median listing price for houses for sale in Birmingham, Michigan, up to $774,900, according to Realtor.com, you'll stand to earn a tidy profit on a real estate transaction.
Even so, you still need to thoroughly prep your home before it goes on the market. If you've sold a house before, you know that the major steps to get your home ready are to paint the interior a neutral color, declutter, clean, and then stage your furniture and decor to open up the floor plan and let buyers visualize themselves living there.
As busy as all that will keep you, that's just the start. There are
several other tasks
to perform to give your home the kind of "wow" factor that will attract top-dollar offers and allow you to sell your home as quickly as possible.
Here is a checklist of some can't-miss steps to take when preparing your home for sale.
Make the Exterior Shine
First impressions still matter, and for buyers, the first look they get at houses for sale in Birmingham, Michigan, is when they drive up. Yes, they came to see the interior, but you can pique their interest even more by focusing on sprucing up the yard, the porch, and the front door.
Mow the lawn, trim any bushes and shrubs, and plant some flowers. Remove any personal decorations and children's toys.
Sweep the sidewalk and driveway, and fix any minor cracks.
Now turn your attention to the front door and porch. Wash the door, or if necessary, give it a fresh coat of paint, and polish the doorknob.
Spray down the porch, and clean the handrails and the porch light. Wipe away any cobwebs under the eaves or overhang. If there's room, place a few potted plants to make the porch as welcoming as possible. Wash any windows that open onto the front yard and porch, including the screens.
If there's a screen door or storm door, remove it, so the front door stands out. You can always reinstall the screen door or storm door after the home sells or let the buyer decide what to do with it. For the time being, set them aside in the garage.
Finally, set out a new welcome mat, preferably one with a simple design and no message.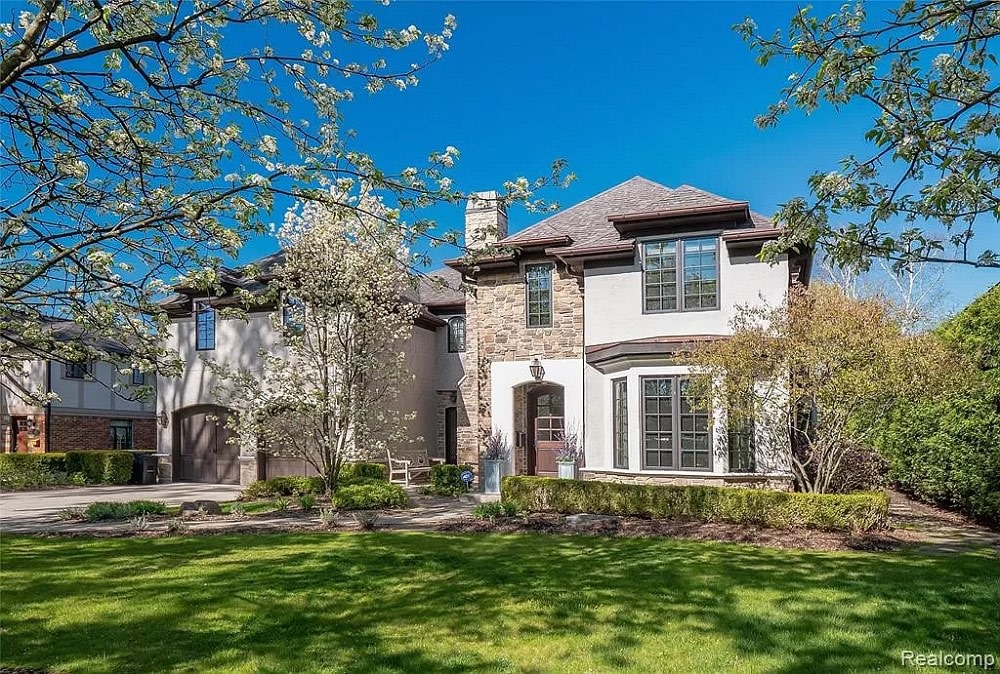 Check the roof
It might be easy to overlook the roof, but discerning buyers of Birmingham, Michigan, homes for sale will want to make sure it's in good shape. If you have a tile roof, it's worth the money to have it professionally power washed to remove the dirt, grime, and mold that has accumulated over the years. If there are any tiles missing, have them replaced. If you have a shingle roof, make sure there are no missing shingles. A thorough cleaning can make a roof look new, giving buyers peace of mind that they're not going to have to replace it anytime soon. Clear out the rain gutters and paint them if necessary.
Backyard, too
Sticking to the outside theme, tidy up the backyard and patio just like you did the front yard. Mow, trim, and plant some cheerful flowers. Remove all personal items, such as children's toys and gardening tools and equipment. Give the patio furniture a good scrubbing.
Declutter
Moving inside, the first step sellers of houses for sale in Birmingham, Michigan, must take is to declutter by removing everything that you don't need from now until you've sold your home and it's time to move. In particular, eliminate all personal items and neutralize your home as much as possible. That means taking down family pictures off the walls and the refrigerator and clearing shelves and bookcases of the majority of possessions. You want buyers to visualize themselves in the home, so you should eliminate anything that will distract them.
Take any items you no longer want or need and either donate them to charity or throw them away. For everything else, now is the time to start boxing up items and taking them to a storage unit until you're ready to move into your new home. Don't just stash those boxes in the garage or attic because buyers will be peeking into those spaces, too.
A good rule of thumb is to take out half the items from your closets, drawers, and cupboards. Buyers will check all the storage spaces in the house. The less cluttered they are, the better idea buyers will have of how they'll be able to use those spaces.
Paint
Once you've removed as many possessions as you can, paint the interior rooms white or another neutral color. Again, the goal is to neutralize your home so it will appeal to a broad range of buyers and their differing tastes. Make any
minor repairs
that are needed.
Stage your furniture
Whether you do this yourself or hire a professional stager, this is
an important step
in which furniture and decor are arranged to open up the floor plan of Birmingham, Michigan, homes for sale. This allows buyers to imagine how each room could be utilized. Relocate any extraneous furniture and decor to storage. Arrange the furniture to accommodate foot traffic through your home.
Clean
Give your house a meticulous cleaning, including the floors, the inside of windows, the kitchen, and the bathrooms. Don't forget to sweep for cobwebs on the ceiling and dust bookcases and shelves.
Final touches
See that all the lights work to perk up your home during showings. Plus, buyers will flip every switch they can find to see if they work. Check to ensure there are no unpleasant odors in your house, and open the windows at least a half-hour before each showing.
For the best result with Birmingham, Michigan homes for sale, contact
Austin Black II
for assistance.