You'll have plenty of options when considering buying a condo in Detroit. Which buildings have the best location, accommodate your lifestyle, and fall within your budget? In this article, you'll learn about a few of the best new condo developments in Detroit and the surrounding area. You'll also better understand what factors should be at the front of your mind as you shop.
1. The Exchange
The Exchange
, a 16-story condo and apartment complex, opens June 1, 2023 — the first new construction residential project to be built in Greektown in decades. Its downtown location near the Central Business District (and a walk score of 96) mean you can accomplish most errands on foot. On game days, you might even hear the roar from the crowds at Ford Field or Comerica Park.
Shared amenities at The Exchange include a fitness center by TechnoGym, a Clubhouse Lounge, and a roof deck with patio furniture, plants, and great views of the downtown skyline and the Detroit River. Condo and apartment interiors feature stainless steel appliances, spacious bathrooms, and open-concept floorplans. The units also have smart tech that makes it possible to manage thermostats, locks, and devices easily and remotely. The building uses sustainable energy efficient enough to save a projected 63 million gallons of water in the next 25 years.
Contact Austin Black II
to delve further into your options at The Exchange.
2. Lafayette West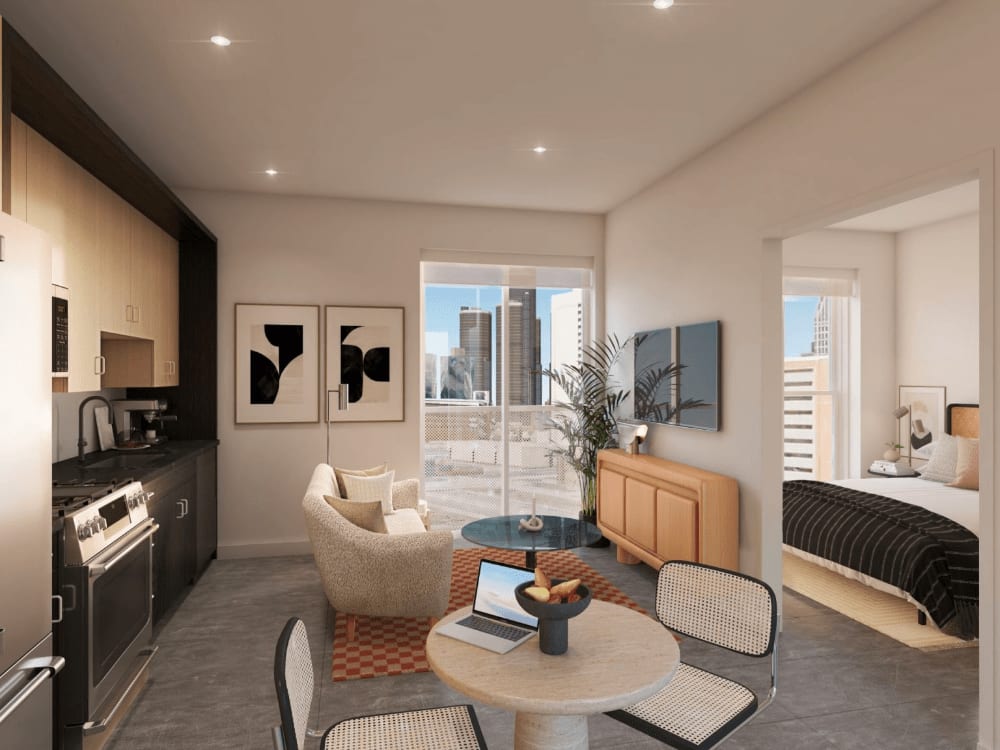 Photo courtesy of Lafayette West Detroit
Not to be confused with Lafayette Towers, Thirteen Hundred Lafayette, or Lafayette Park Place Apartments, the $150 million
Lafayette West
development awaits completion in 2023. Like The Exchange, another project by co-developer Mark Bennett, Lafayette West is downtown; you can walk or bike easily to the Central Business District, Detroit Riverwalk, Greektown, or the Stadium District. Sporting a walk score of 85, the building is centrally located, creating what the leasing company calls the "10-minute neighborhood."
Like the rest of downtown Detroit, there is plenty of parking at Lafayette West; the garage's electric vehicle charging stations figure to get more and more use. Residents can access high-speed internet across the entire five-acre campus, where the walking paths and landscaping complement historic Lafayette Park. The onsite pool, fitness center, and pet spa are the icing on the cake.
The building contains 318 total units. Condos start at $232,000, and you can join the
apartment waiting list
for a studio, one-bedroom, or two-bedroom apartment.
Reach out to Austin Black II
for more details.
3. Henry Glover House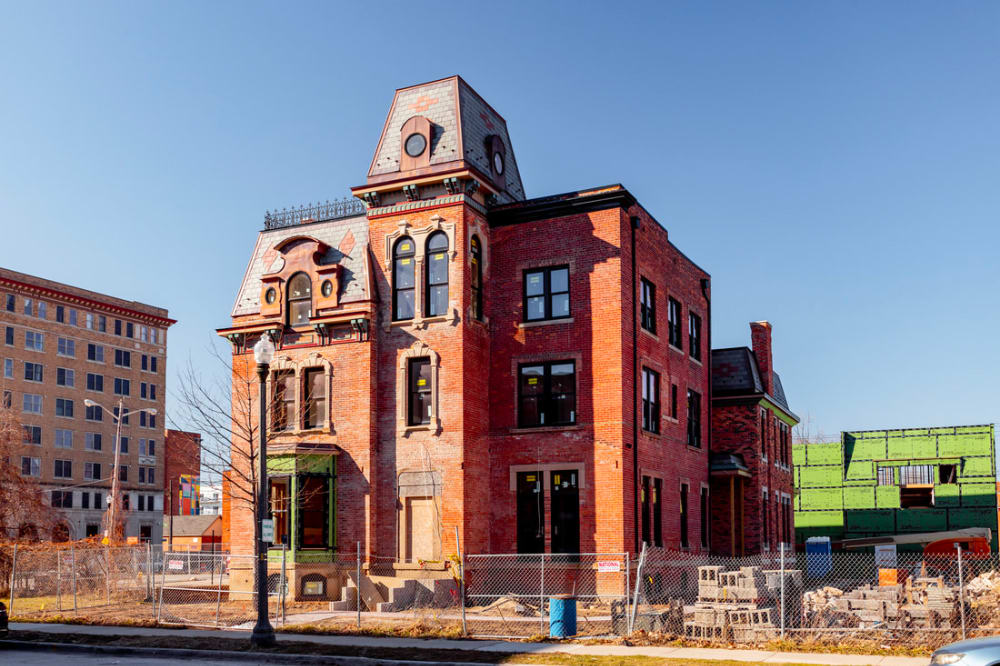 Photo courtesy of henrygloverhouse.com
Henry Glover House
is a quintessential, symbolic Detroit housing development on the exclusive end of the condo spectrum. Only six units are available in this historic house reincarnated as luxury condos. Located in Brush Park, the structure was a single-family mansion in the 1870s, then a boarding house in the 1950s. After being vacant for three decades, the building was scheduled for demolition before activists saved it.
The House has a homey feel with historical detail (brick exterior, mansard roof) coexisting with modern features like the heated floors and lighted mirrors in the bathrooms. The top-floor penthouse is priced at $1.4 million, while lower-level condos start at about $600,000.
4. City Modern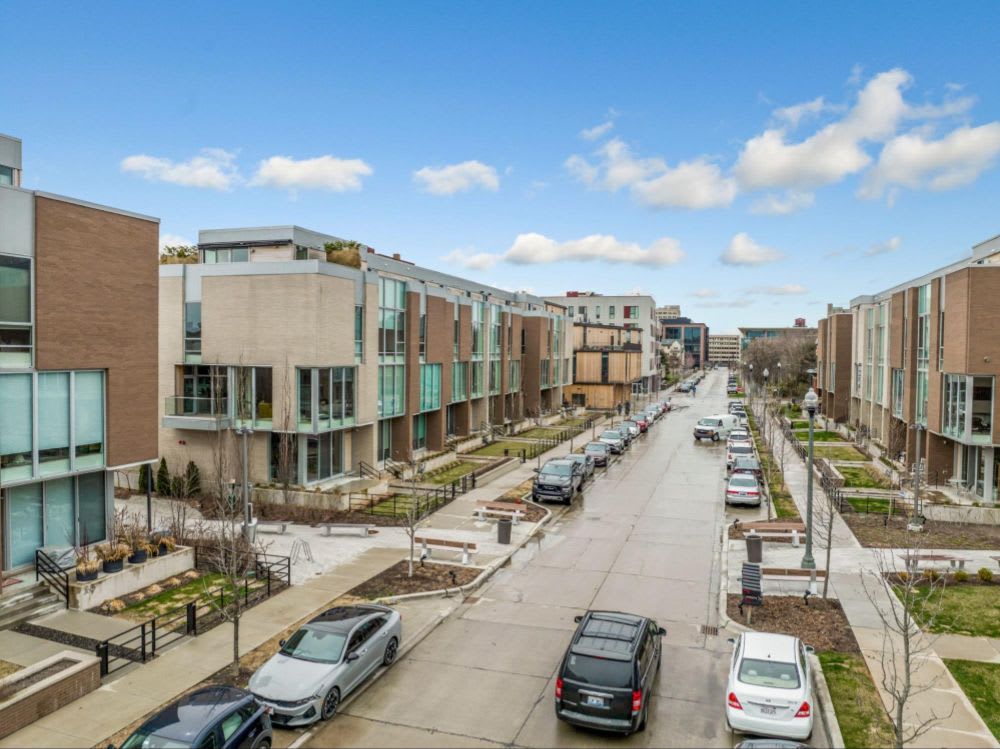 Photo courtesy of City Living Detroit
City Modern
is located in the Brush Park neighborhood. There are more than 400 homes on site, with restaurants and retailers coming in the near future. You'll find six different buildings and floor plans that range in size. You'll love walking through the above-ground gardens that offer a fresh perspective on your surroundings and plenty of seating space for relaxing or conversing with friends.
5. Pallister Gardens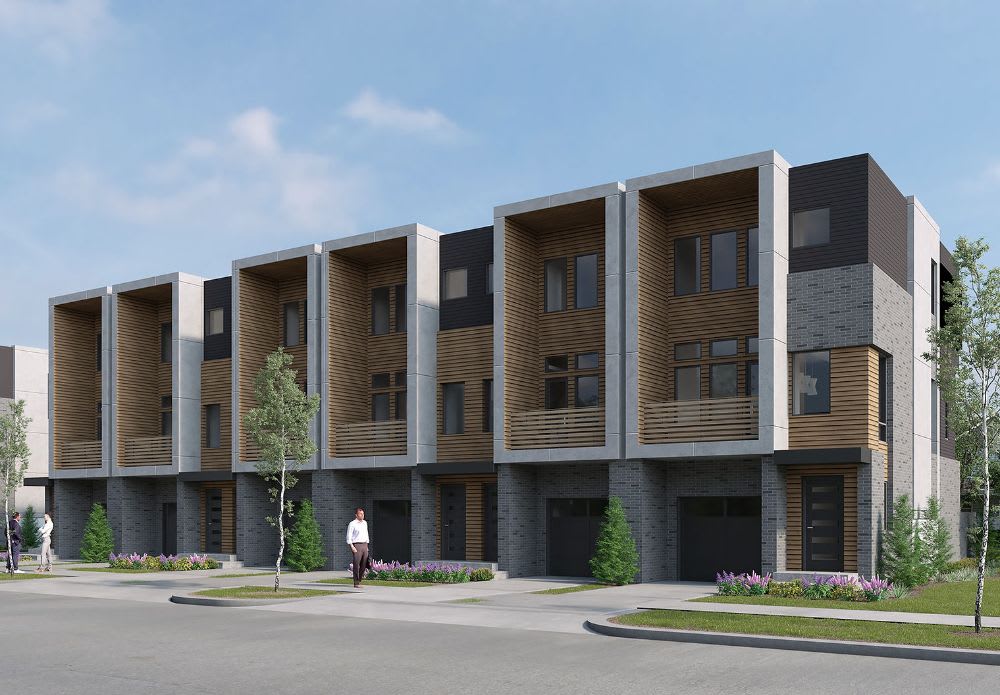 Photo courtesy of Pallister Gardens
At
Pallister Gardens
, you'll find beautiful townhomes with garages and private fenced-in backyards. You'll have plenty of space to let your dog run or spend summer nights grilling outside with family and friends. Many of these backyards feature spiral staircases leading from the balcony on the main level down to your backyard.
Each home is spaced out over two or three levels, and you can convert your garage into a home office or an extra bedroom. The exteriors are made in a modern style featuring brick and glass. Walk inside each home, and you'll be blown away by the double sinks in the main bathroom and the kitchen island. Many of Detroit's top points of interest are a short walk or bike ride away, keeping you at the center of the action all the time.
6. CODA Detroit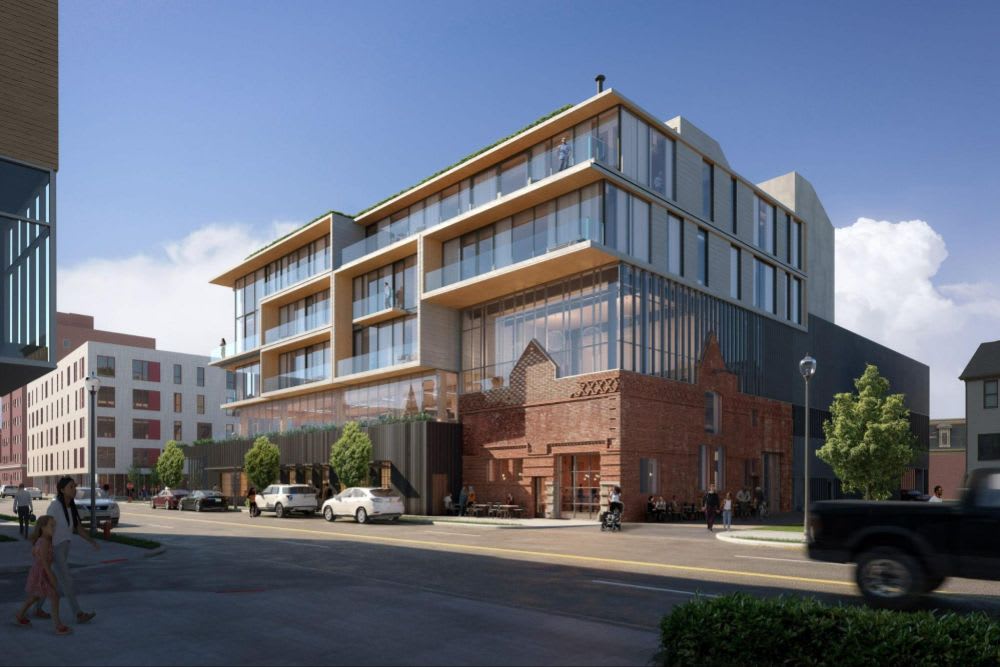 Photo courtesy of CODA Detroit
CODA Detroit
is a newly constructed luxury condominium park with a two-story restaurant nearby and dedicated commercial office space. Thanks to the built-in parking facility onsite, you'll never have to worry about parking. The neighborhood was named after the musical notation mark that symbolizes a passionate crescendo or the momentous conclusion of a piece.
At CODA Detroit, you'll find two private three-story townhomes and eight modernized condos. Each one has floor-to-ceiling glass windows that offer breathtaking views of the city. All units have their own outdoor space as well.
7. Sycamore Park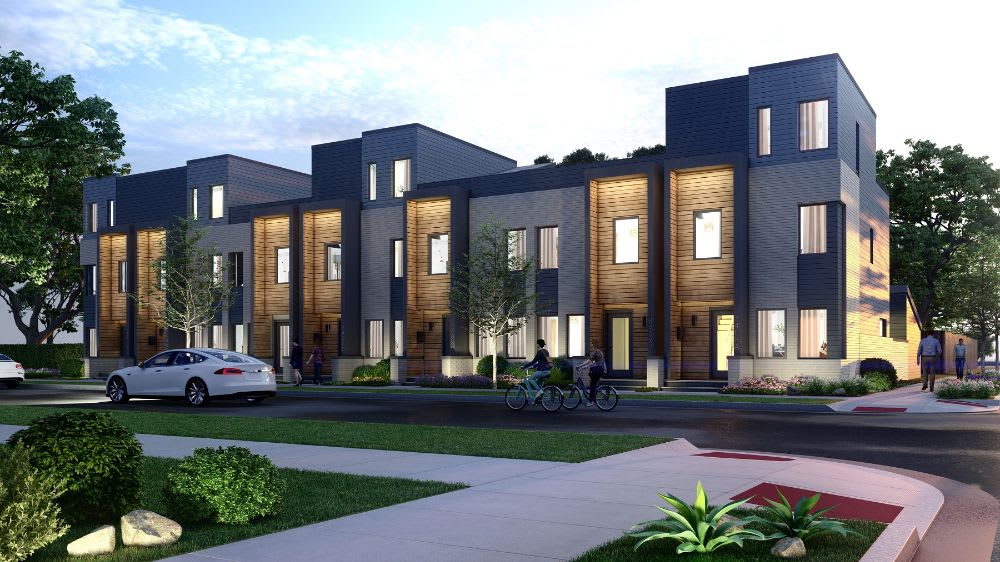 Photo courtesy of Sycamore Park
Each resident at
Sycamore Park
enjoys their own private outdoor space and ground-level access to their condo. Sycamore Park is close to many popular shops and restaurants, along with various entertainment options. Construction began recently and should be completed early in 2024. Units will have two or three bedrooms, and they will all have private garages. We expect prices to rise as time passes, so don't waste time securing your condo today.
As you can see, there are plenty of intriguing options when buying a condo in Detroit. If you want to work with someone who can help you through the process, contact
Austin Black II
. Austin brings nearly 20 years of experience to bear when helping people like you handle real estate transactions in the Detroit area. He would love to speak with you when you're ready to take the next step toward buying or selling Detroit real estate.
*Header photo courtesy of City Living Detroit