There are many perks to city
living in Detroit
, especially in the Birmingham and
Downtown Detroit
areas. Shopping, dining, and nightlife are all practically at your doorstep. And when the weather is nice, there's nothing better than taking your pup for a stroll to a neighborhood restaurant or cafe.

These convenient dog-friendly restaurants in Birmingham and Downtown Detroit offer everything from the best brunch to decadent Italian dishes. Four-legged friends are welcome in the outdoor seating areas at every place on our list.
If you're not living in the area yet,
call Austin Black II Real Estate today
and let a member of our experienced team show you one of the many charming Birmingham homes for sale. Or, perhaps one of the several luxury condos for sale in Downtown Detroit will be more appealing to you?

In the meantime—here are ten places to dine with your dog the next time you're out for a walk in Birmingham or Downtown Detroit.
1. Under the tent at Detroit Shipping Company
474 Peterboro St, Detroit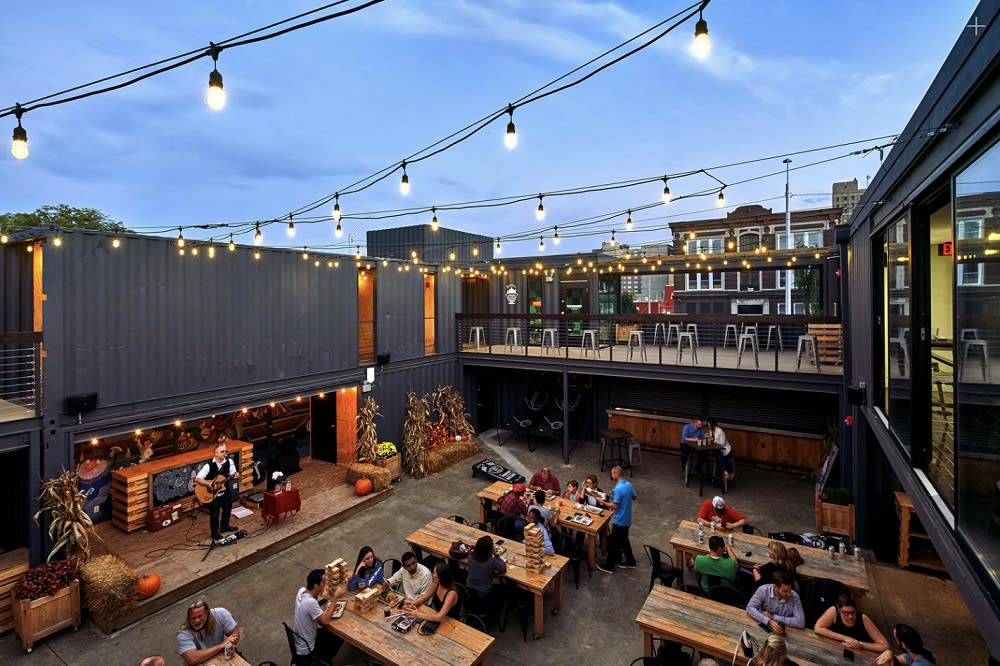 Photo courtesy of Detroit Shipping Company
Detroit Shipping Company
is a food hall and beer garden built from shipping containers, and there's plenty of outdoor seating in the backyard, called the "Summer Oasis." You and your dog will both appreciate the tables under the large shaded tent, so you won't have to change your plans if it rains.
What's on the menu? An eclectic mix of food from nearby neighborhood restaurants operating market stands. Options include Thai street food from Bangkok 96, Nepalese dumplings from Momo Cha, and Caribbean-inspired dishes from Coop Caribbean Fusion.
2. Enjoy Italian at an outdoor table at Casa Pernoi
310 E. Maple Rd., Birmingham
Casa Pernoi
is in Birmingham's downtown area, and reviewers often enjoy the outdoor seating area since it is on a pretty street. Your pup can keep busy people-watching for entertainment while you enjoy a decadent Italian meal that will taste home-cooked.
Order the creamy Burrata, Roasted Branzino, or Charred Octopus, and you'll feel transported to the Mediterranean coast. Recommend pasta dishes include Tagliatelle Bolognese, which is a traditional meat sauce, and Mafaldine al Tartufo, made with Perigord truffles and local wild mushrooms.
Second-course specialties include Steak Siciliano, Veal Parmigiana, and Tuscan Chicken. Save room to indulge in dessert, since the choices include gelato, tiramisu, and panna cotta.
3. Head to Toast for brunch on the patio
203 Pierce St., Birmingham
Toast
, often called a "hipster brunch spot," has a beautiful gated outdoor patio where you and your dog can enjoy the sunshine while enjoying a gourmet-level breakfast. Toast began in 2001 in Ferndale before opening its second location in Birmingham in 2008.
Toast is known for its inventive menu, and it's a great place to catch up with friends over a pitcher of mimosas. Or, go for the Bacon Mary, made with bacon-infused vodka and a fresh house-made mix.
Creative omelets are often praised for unexpected—and delicious—combinations, such as fried green tomatoes, brie, herb ricotta, and roasted beets.
4. Dine in the outdoor area at Townhouse
180 Pierce St., Birmingham
Townhouse
has two locations, but its downtown Birmingham bistro has a spacious outdoor seating area perfect for dining with a pup.
You won't be disappointed with the dinner entrees, which will remind you of elevated versions of familiar favorites. Specialties include Steak & Frites, a filet with peppercorn fries and tabbouleh, or Crispy Halibut covered in beer batter—with red curry aioli, cole slaw, and house chips on the side.
Townhouse is most known for its burgers, and there are two options. The Townhouse Burger is a dry-aged, hand-formed patty topped with white cheddar and bourbon-glazed onions on a Brioche bun. Or, the Vegan Burger includes two patties, pickles, and Special Sauce.
5. Order a roll on the patio at Birmingham Sushi Cafe
377 Hamilton Row, Birmingham
If you are in Birmingham's downtown area and craving Japanese, Chinese, or Korean cuisine, you'll find all those options and more at
Birmingham Sushi
. Your pup will feel right at home lounging under your table in the outdoor patio area.
Start your meal with a popular appetizer, such as Kobe Beef Tataki or Crispy Calamari. In the mood for soup? Choose a broth to pair with your favorite type of noodle. Veggie options include Edamame, Spring Rolls, and Seaweed Salad. The extensive sushi roll menu features Shrimp Tempura, Spicy Yellowtail rolls, and all types of raw sushi.
6. Condado Tacos will welcome your pup
634 Selden St. Unit A, Detroit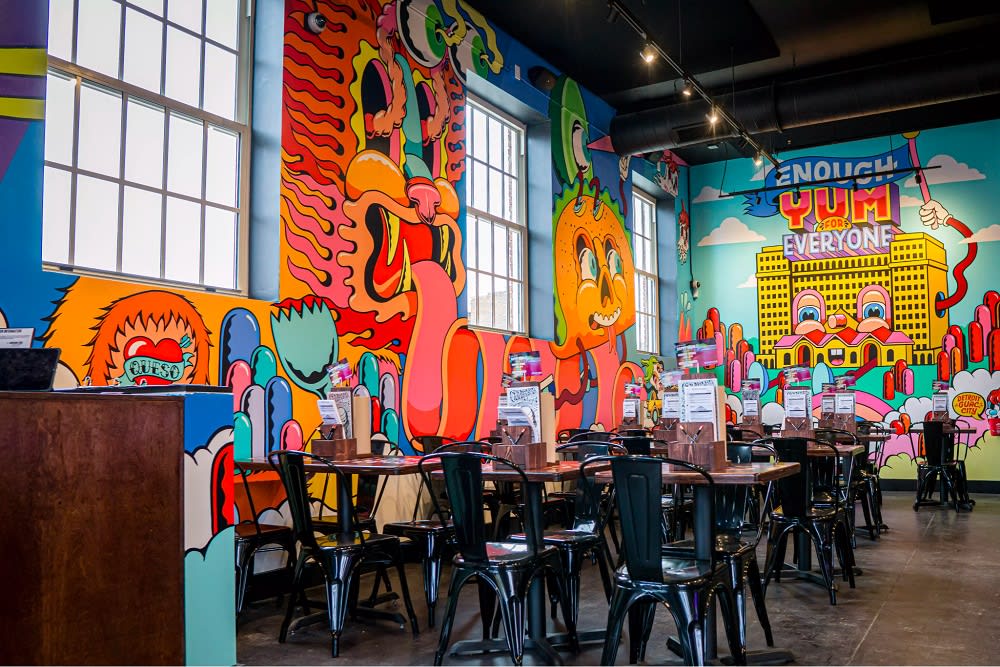 Photo courtesy of Condado Tacos
This Mexican eatery has three locations between the river and Birmingham, but each menu varies—along with the rules about dining with a dog. We suggest you visit
Condado Tacos
in Detroit's midtown area since this location welcomes four-legged friends, and it's not far from Downtown Detroit. Take a seat on the outdoor patio—and your pup may be featured on
Condado's Facebook
.
The tacos here are served wrapped in foil in a paper-lined basket, but that doesn't mean they aren't special. Many reviewers call the fresh ingredients and sauces "crave-worthy." Build your own taco or bowl, or choose a suggestion off the menu.
Menu highlights include "Braised & Confused," which pairs beef brisket with soft flour tacos, rice, jicama, cabbage slaw, pickled red onions, queso fresco, and chipotle crema. The "El Tradicional Tacos" are filled with house-made chorizo, guacamole, cilantro, onions, and queso fresco. "Cali Green" includes both hard corn and soft shells filled with ground beef, guacamole, queso drizzle, lettuce, pico de gallo, Middlefield smoked cheddar, cilantro-lime aioli, and chipotle honey.
7. Hang out at Woodpile BBQ Shack
303 S. Main St., Clawson
If your dog doesn't mind short car rides, drive ten minutes east of Birmingham to
Woodpile BBQ Shack
in Clawson. The staff often has dog treats for customers with canine companions. Pups like sitting under the restaurant's backyard pergola so much that a lost dog once used it as safe haven until he was reunited with his owner, according to the
Woodpile BBQ Shack's Facebook
.
The Woodpile BBQ Shack serves up barbecue meats by the half-pound, including Beef Brisket, Pulled Pork, and Cheddar Jalapeno Sausage. St. Louis Ribs are also on the menu, along with southern-inspired, mouth-watering sides, including sweet potato mash, collard greens, and mac & cheese.
If you prefer a ready-made sandwich over a platter, try the Carolina Pulled Pork or Pulled Chicken, both topped with slaw and pickled onions. Or, opt for the restaurant's namesake sandwich, "The Woodpile." It offers a taste of everything, with pulled pork, brisket, cheddar jalapeno sausage, and candied bacon.
8. Head to Folk in Corktown
1701 Trumbull St., Detroit
Folk
is one mile west of the center of Downtown Detroit, near the Corktown neighborhood. And here's a fun fact to discuss over lunch—Corktown is named after County Cork, Ireland, and it is the oldest existing neighborhood in Detroit, according to the
Detroit Historical Society
.
Your pup will love hanging out with you on the cafe's front patio. And you'll love the fact that
Thrillist
said "the breakfast and lunch menu of farm-fresh ingredients is delightful" at Folk and named it one of the "Best Breakfast Spots in America."
Try the Hash Plate, which is two eggs, spiced potatoes, summer squash, onions, sweet peppers, pea shoots, and avocado.
Since Folk is known for its in-house bakery, don't skip the bread—order extra to bring home. Zingerman's Farm Loaf is one specialty, and it's vegan. Desserts are often baked fresh as well. Ask about daily specials, which sometimes include Mochi Cake Bites, which are bite-size squares of gluten-free butter mochi cake topped with citrus curd and candied almonds.
9. Indulge at Cork & Gabel
2415 Michigan Ave., Detroit
Another restaurant in Corktown—but just a stone's throw from Downtown Detroit—is
Cork & Gabel
. Owners describe it as a "fusion of Irish, Italian, and German cuisine." Dogs love the large outdoor gated area that offers plenty of room to roam around while you're waiting for your food to be served.
The dishes are inspired by European comfort food, using farm-fresh ingredients. Fresh-picked produce comes from Wojcik Farms, a small family-run farm in Tecumseh, Michigan. Try the Fried Dubliner Cheese, Kielbasa & Kraut, or Fish & Chips. The salads are extraordinary and include All Hail Caesar with homemade dressing—or the Michigan Arugula Salad with organic greens, radishes, strawberries, dried cherries, mandarin oranges, fried goat cheese, and a lime thyme vinaigrette.
The desserts are memorable and include The Mayflower—four Italian ricotta fried doughnuts, tossed in cinnamon sugar. They are served with a decadent porter chocolate ganache, Slane Irish whiskey caramel, and Bavarian cream. The Irish Car Bomb also won't disappoint, and it's not the type that comes in a shot glass. It's a Guinness chocolate waffle, topped with Slane Irish Whiskey caramel sauce and homemade Irish cream ice cream.
10. Relax in the spacious outdoor area at Batch Brewing Company
1400 Porter St., Detroit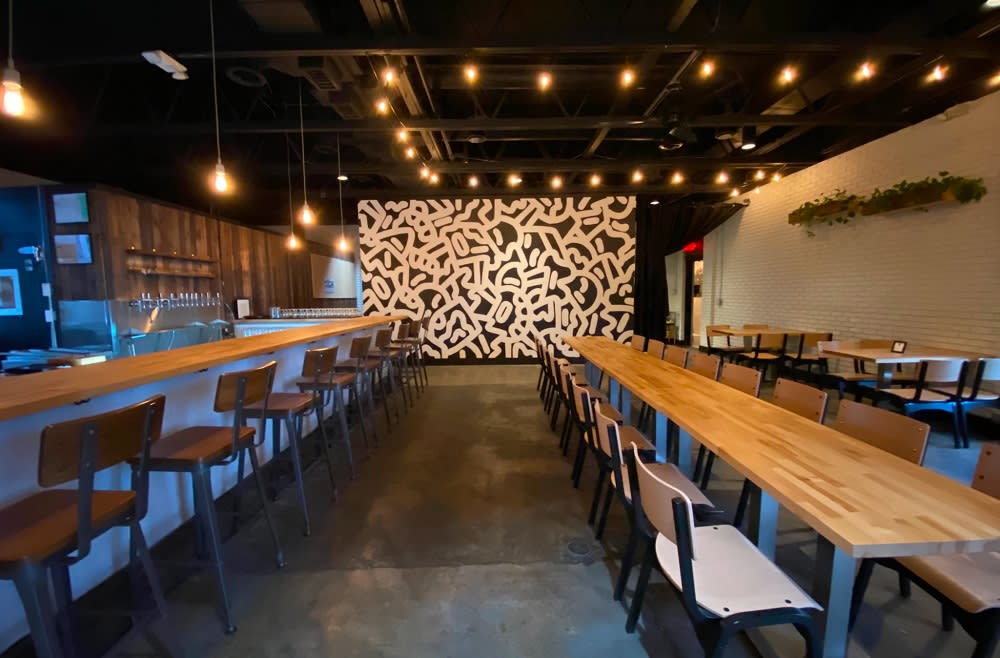 Photo courtesy of Batch Brewing Company
Batch Brewing Company
is a favorite spot for pet owners in Detroit because dogs are allowed in all the outdoor seating areas, and it's spacious. The menu is not extensive, but it includes vegan and gluten-free options.
Try the house-made pretzel, which is a staple for any brewery. There are also a few surprising options, like the Warm Mushroom Salad with assorted smoked mushrooms, roasted parsnips, shallots, and a sesame sauce. Reviewers often love the Rock City Mac & Cheese and the Rock City Burger.
Are You Looking for a New Home?
If you—and your pup—would love to live near one of these dog-friendly restaurants, our agents at
City Living Detroit
specialize in the Birmingham and Downtown Detroit areas. Call or email today, and let us find your next home!