An ever-changing and growing city, Detroit has more to offer than world-class museums, sports teams, and exceptional musicians. When the city commotion becomes a bit overwhelming, you need a quiet place in which to retreat. Luckily, there are several parks in Detroit to reflect on the week's affairs, enjoy some active recreation, or simply flee from the metropolis to revel in a peaceful moment. Let's dig into the many parks in Detroit; read on to learn more!
Clark Park
Surrounded by schools, shops, services, and historic homes,
Clark Park
is considered the town square in a flourishing southwest Detroit neighborhood. Countless concerts, festivals, and unique gatherings for the diverse locale are held here, and Clark Park also remains a favored meeting place for family picnics and events.
Additionally, the
Clark Park Coalition
provides a fabulous array of year-round recreational, educational, social, and mentoring programs for Detroit's youth. Some of the featured programs include arts & crafts, baseball, field trips, homework assistance, mentoring, girl's softball, and more. The coalition also provides free daily lunches to over 100 youth throughout the summer, and it operates a regulation-sized outdoor ice hockey rink in the winter. By utilizing the lush, green Clark Park, dedicated staff, and volunteers, the Clark Park Coalition and its park remain an invaluable asset to the community.
Grand Circus Park
Grand Circus Park is a local gem, bridging the growing residential community and the Downtown Detroit entertainment district. This park features new seating and guest areas, gardens, a dog park for downtown inhabitants, and two gorgeous historic fountains. Plenty of free community events, including live opera, music, literary readings, and street performances, are also held here. Some upcoming events include free yoga every Sunday, Dog Fest, the HalloweenmCostume Party, and many more.
In addition to the plethora of areas to partake in passive recreation and neighborhood events, many popular attractions and venues surround the park. These include Comerica Park, The Fox Theatre, Detroit Opera House, Ford Field, The Fillmore, and Little Caesars Arena. Bring your pup for a nice walk, recline on a park bench, and stay updated on upcoming events at Grand Circus Park.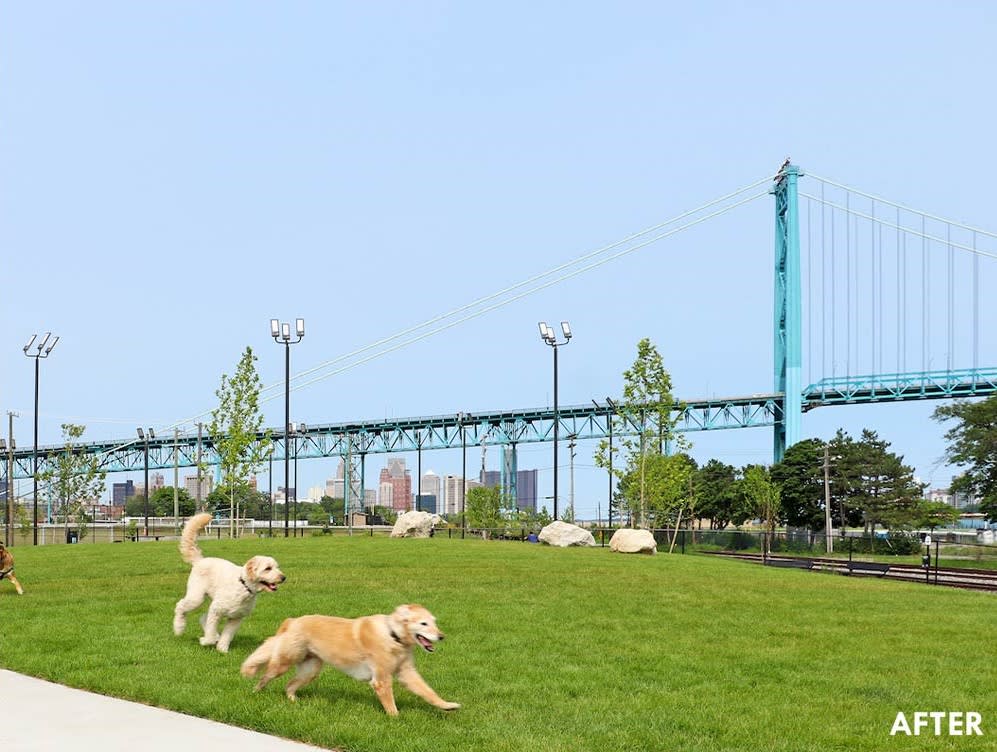 Riverside Park
Ever since
Riverside Park
underwent a substantial renovation in 2015, it has become a favorite neighborhood hangout. This 29-acre park is located on Detroit's southwest riverfront and features a picnic area, a boat launch, a horseshoe and table tennis game area, and a riverwalk. In addition, the park was expanded to include the largest dog park in the city and a 20,000 square-foot skate park.
Though Riverside Park already has many treasured features, the city has plans to create a promenade for festivals, a lawn area, fishing boardwalks, a sledding hill, a picnic shelter, fitness equipment, a concession stand, and a playground with a splash pad. What makes this park so great are the wide array of amenities that engage people from all walks of life.
Belle Isle Park
Belle Isle Park
is a 982-acre island park that is a genuinely unique sanctuary in Detroit. Belle Isle features a swimming beach open to visitors from the second week in June through Labor Day, 5 AM until 9 PM daily. The Anna Scripps Whitcomb Conservatory is a popular facility within the park that you can head to in order to explore a collection of exotic plants, a formal perennial garden, seasonal floral beds, a lily pond garden, and five flora sections.
Also, head to the Belle Isle Nature Center to participate in an interactive deer encounter exhibit and relish various educational programs. Not to mention, the Belle Isle Aquarium is the oldest in the U.S., where you can view 118 species, over 1,000 fish, and an extensive collection of park memorabilia. After seeing some marine life, head to the Dossin Great Lakes Museum, built on the J.T. Wing, the last commercial sailing ship on the Great Lakes.
In addition to the fantastic nature conservation and educational institutions, Belle Isle Park is home to a 9-acre golf range and various athletic fields, including softball, baseball, football, soccer, rugby, track, and handball/racquetball. Don't forget to visit the marble Livingstone Memorial Lighthouse on your next visit. If you work up an appetite, or you need to rent bikes, watercraft, or sports equipment, several vendors sell everything you need for a fun-filled day at Belle Isle Park. With so much, you'll need to do, head to the revered Belle Isle Park for your next adventure.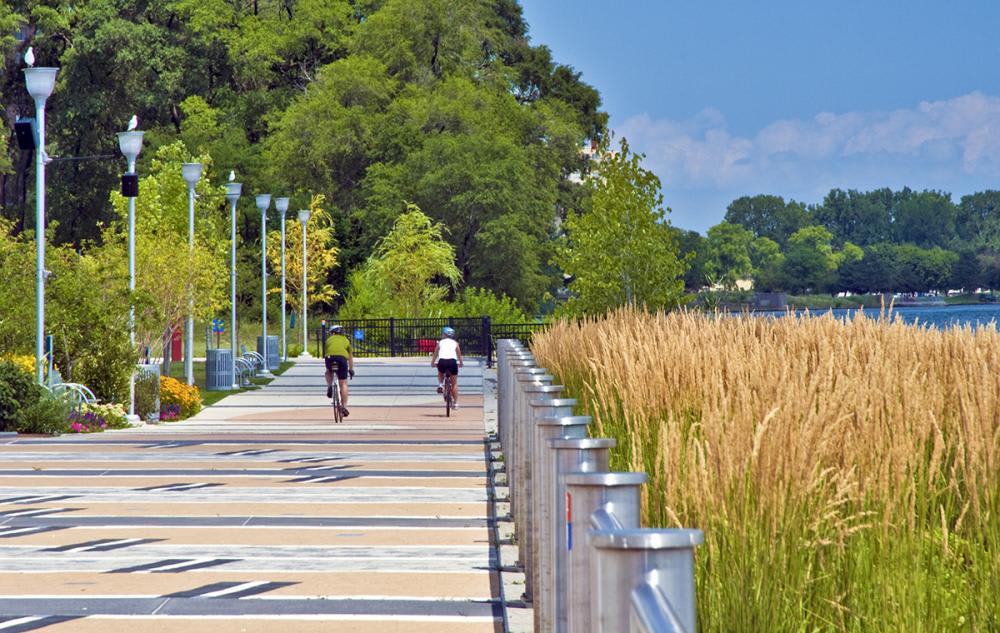 Gabriel Richard Park
If you need a tranquil park fit for reflection and catching your breath after a busy week, stop by
Gabriel Richard Park
. The park borders the Belle Isle Bridge and offers a panoramic view of Belle Isle. This charming 3-acre park features a plaza, a pavilion, fountains, fishing outlooks, butterfly gardens, and a labyrinth. Though the park is small, it is a beloved oasis for city dwellers who need a retreat from life's challenges.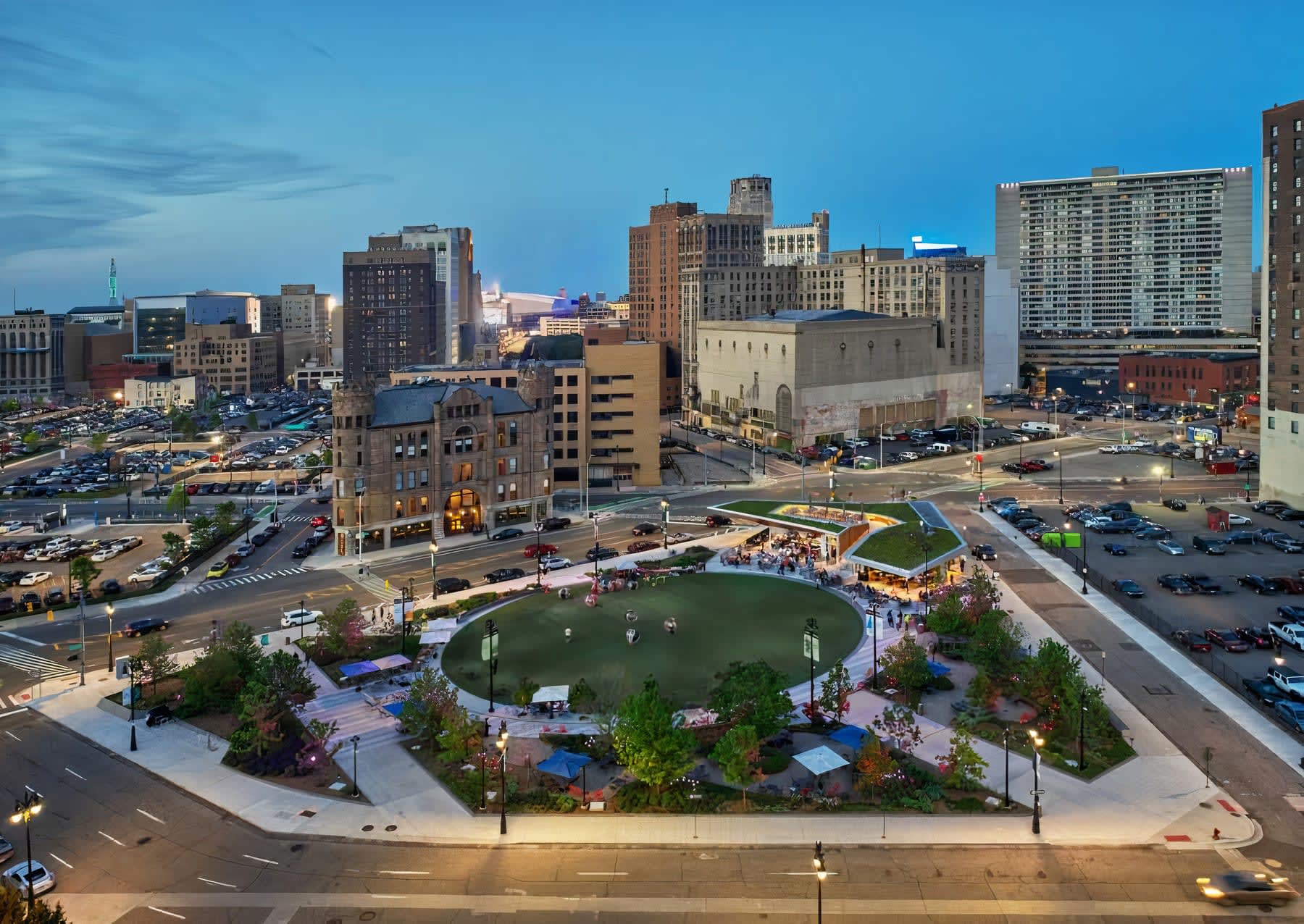 Beacon Park
An expansive green space nestled among skyscrapers,
Beacon Park
is the premier destination for year-round events, interactive light installations, and neighboring restaurants offering rooftop seating and stunning views of the park and city skyline. Some upcoming happenings include Paint Our Parks, where residents can submit their masterpieces on social media and tag Beacon Park, and the complimentary Bounce Art Installation temporary art installation.
Get a good workout in with the complimentary Happy Hour Burn fitness class featuring a live DJ, or get some shopping done at the Summer Night Market, featuring local vendors selling goods and Detroit's best live bands and DJs. You are bound to have a good time discovering Detroit's local color and offerings when visiting Beacon Park.
William G. Milliken State Park & Harbor
William G. Milliken State Park and Harbor
is a lovely green escape from the city's hustle and bustle. Located in the heart of Detroit on the Detroit River, the park is home to a harbor, a picnic area, wetland, paved trails, and more. Trails are accessible to bikers, pedestrians, rollerbladers, and skaters. You are welcome to bring your on-leash dog and take a stroll on the Detroit Riverwalk or bring your bicycle to ride the asphalt bike path.
The picnic shelters are also reservable for your next family picnic, birthday party, or special event. Additionally, considering the beautiful Detroit River backdrop, this park is an excellent location for weddings; however, alcoholic beverages are not permitted in the park, except with a permit you can purchase when you rent a shelter. Whether you just need a break from city noise or a destination for the next family barbecue, William F. Milliken State Park and Harbor is the perfect location.
Chandler Park
Chandler Park
is an expansive community hub with a picnic shelter, aquatic center, playground, and sports facilities. The Chandler Park Golf Course is an 18-hole public course offering a manicured lawn, a large practice green, and a Par 71 layout fit for novices and golf enthusiasts alike. The athletic field featured in Chandler Park can be used for football, soccer, and lacrosse.
While you're here, work on your swing on the tennis courts, head to the softball and t-ball diamonds to play a game with friends, or head to the outdoor fitness zone to tone up your physique via various exercise machines. Suppose you need a breather, stop by the Matilda Wilson Garden to relax among beautiful flora, or take a stroll along the walking path. Given the many opportunities for passive and active recreation in Chandler Park, it remains a crucial and popular neighborhood epicenter.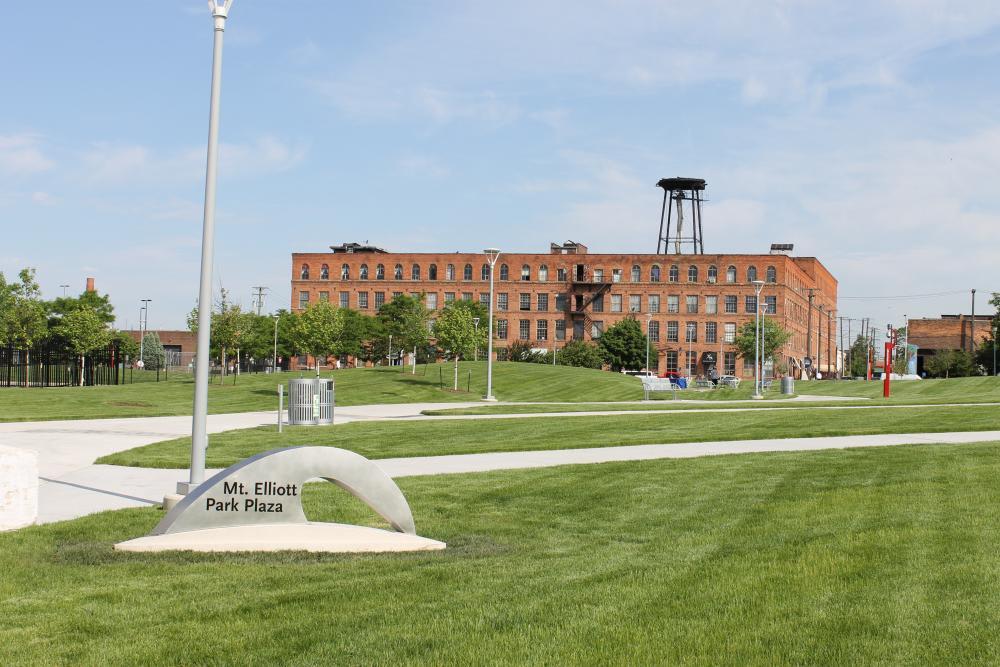 Mt. Elliot Park
A completely overhauled outdoor space,
Mt. Elliot Park
offers patrons a Great Lakes-themed water feature with water cascades and "kid activated" water cannons, wind chimes, and many additional interactive elements. The splash pad was constructed in collaboration with Water Odyssey, an international designer of fountains and water parks.
This elegantly landscaped park features fishing piers, winding walkways, LED lighting, restrooms, and a cafe. The park layout has been crafted in congruence with the nature of the side and heritage authenticity in mind. People of all ages and physical abilities were accounted for in the park's conception and building. If you seek relief from summertime heat, bring your family to cool down at Mt. Elliot Park.
Are you ready to call Detroit home? Contact Realtor,
Austin Black II
to assist you with all your Detroit real estate needs. Whether you seek houses for sale in Birmingham, MI, condos for sale in Downtown Detroit, or a historic home in one of Detroit's neighborhoods, Austin Black will lead the way.