From jaw-dropping skyscrapers to glimmering art deco buildings, historic Detroit has one of the Midwest's most iconic downtown centers, with world-class dining, lively entertainment, and an unparalleled sense of community. With so much to offer, one of Downtown Detroit's greatest perks is its excellent shopping. Centered around Woodward Avenue,
Downtown Detroit
is an eclectic mix of name-brand retailers, indie shops, and classic boutiques. With so many options to choose from, the bustling downtown area has nearly every type of store you can imagine, making it the perfect place to shop for gifts. Here are some of the top Downtown Detroit shopping destinations this holiday season.
Gucci
(New Location in Downtown Detroit) 1274 Library St, Detroit, MI 48226
Very few brands hold the same iconic status as Gucci. Known as one of the world's most recognizable luxury brands,
Gucci
is the epitome of designer accessories, shoes, and handbags. With one of its newest stores recently opening in Downtown Detroit, now is the perfect time to purchase something special for everyone on your holiday gift list.
Good Neighbor
1435 Farmer St #115, Detroit, MI 48226
From casual attire to accessories,
Good Neighbor
is your one-stop shop for everything you need this holiday season. Good Neighbor is a curated men's and women's attire shop where brands and shoppers connect. Good Neighbor's mission is to create a positive impact through fashion and community.
H & M
1505 Woodward Ave, Detroit, MI 48226
With over 4,700 stores worldwide,
H&M
is one of the most popular fashion brands on the planet. A Swedish company, H&M focuses on fast fashion for men, women, children, and teens. Trendy and affordable, you are sure to find something for everyone on your list this holiday season.
Lululemon
1459 Woodward Ave, Detroit, MI 48226
Athletic meets fashion here at Lululemon. With over 574 international stores,
Lululemon
is the leader in high-end athletic wear, selling tops, yoga pants, lifestyle apparel, accessories, and wellness products.
Moosejaw
1275 Woodward Ave, Detroit, MI 48226
Calling all outdoor enthusiasts! If you need outdoor recreation apparel or sporting equipment, Moosejaw is your go-to destination. With brick-and-mortar and online shops,
Moosejaw
carries some of the biggest brands in recreational gear, including the North Face, Mammut, Sorel, Keen, Black Diamond, and more.
Bird Bee
1228 Griswold St, Detroit, MI 48226
Expressive meet edgy with Bird Bee, one of Downtown Detroit's leaders in trendy women's apparel.
Bird Bee
carries the latest in women's attire, shoes, accessories, and more. Shop stocking stuffers with exquisite jewelry, sunglasses, and watches.
The Lip Bar
1435 Farmer St Suite 122, Detroit, MI 48226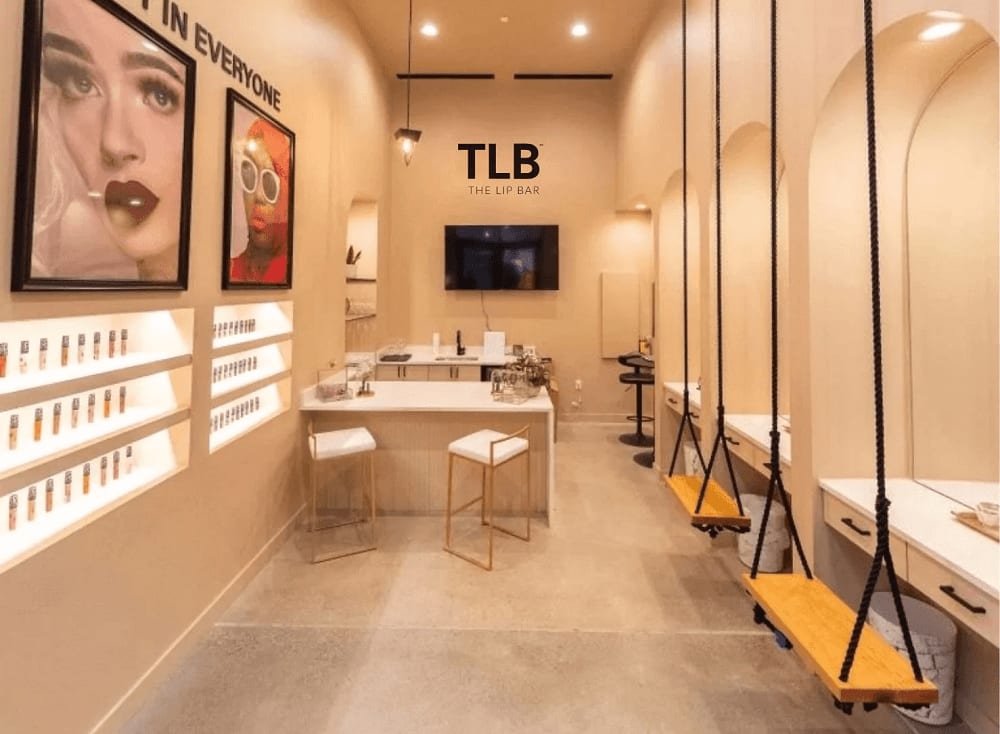 Image courtesy of The Lip Bar
Beauty never looked so good with
The Lip Bar
, a boundary-breaking makeup brand featuring vegan, cruelty-free products for makeup lovers everywhere. The Lip Bar is founded and owned by women of color and puts the utmost importance on maximum impact and minimal effort beauty. The Lip Bar is best known for its signature creamy lip balms but has all sorts of makeup products, including foundation, eye shadow, mascara, contouring kits, and more. You can even try their shade match for the best coverage.
Spectacles
230 E Grand River Ave, Detroit, MI 48226
Very few Downtown Detroit stores have quite made the same impact as
Spectacles
, a multifaceted shop with Detroit-themed t-shirts, hip accessories & albums from local musicians. Featuring men's and women's apparel, Spectacles is so much more than a clothing shop–it's a Detroit institution that honors the city's musical heritage. Shop Spectacles for clothing, accessories, music, books, and movies. Spectacles is not only hip, but it creates an impact on Downtown Detroit.
City Bark
1222 Griswold St, Detroit, MI 48226
In Detroit, pets are family. That's why you shouldn't leave Fido off your holiday shopping list this year.
City Bark
is one of Detroit's most popular pet supply stores, featuring all gifts for your cat or dog. City Bark has specialty dog food and treats, toys, harnesses, pet apparel, and more. Recently rewarded "America's Coolest" by
Pets+ Magazine
, City Bark is your one-stop shop for your pets this holiday season. They offer in-store or online shopping, curbside pickup, or local delivery. You can even celebrate your pet's big day with birthday treats and pet-friendly cupcakes.
Downtown Detroit Markets
Cadillac Square in Downtown Detroit
Downtown Detroit is a vibrant playground all year round, but there's something truly magical about it during the holiday season. From November 10th until January, the Downtown Detroit Markets turn into a spectacular Winter Wonderland. The
Downtown Detroit Markets
feature ice skating rinks, hot chocolate, holiday parades, tree lighting ceremonies, and so much more. It's also the perfect shopping destination for all of your holiday needs. The
Downtown Detroit Markets
feature pop-up shops in the Cadillac Square Markets and Capitol Park Markets, with nearly every type of gift imaginable. If you shop on a Friday, you can even grab a bite to eat from some of the city's most beloved food trucks.
NoJo Kicks
1220 Library St, Detroit, MI 48226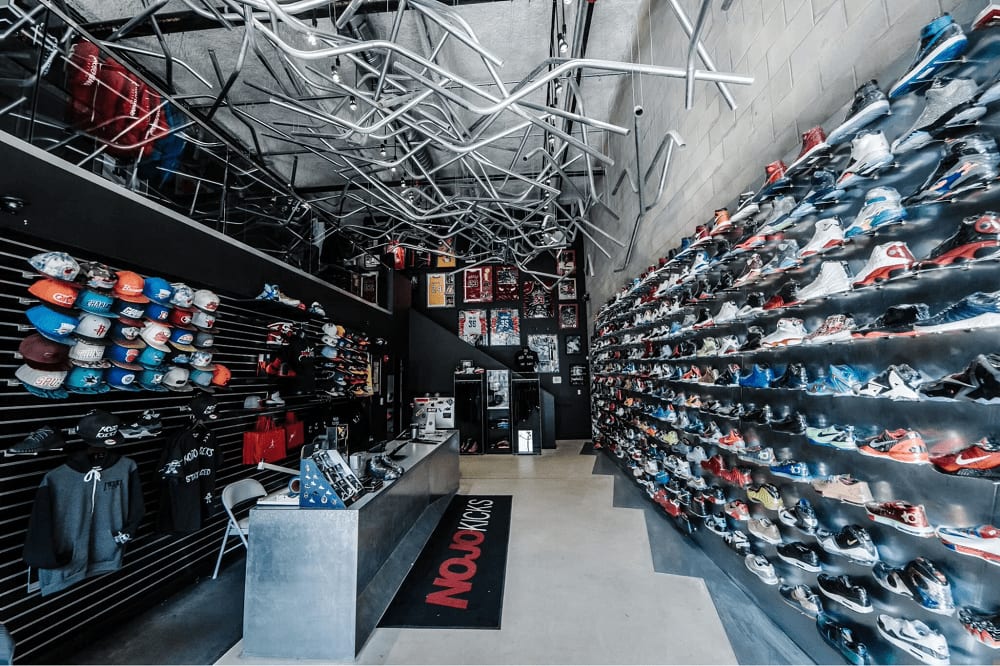 Image courtesy of NoJo Kicks
Known as one of the most high-end sneaker boutiques,
NoJo Kicks
is your go-to place for a one-of-a-kind shoe-shopping experience. NoJo Kicks features some of the world's most exclusive sneakers brands, including Air Jordan, Nike, Adidas, and more. You can even find rare brands like Deadstock Retro Jordans and more. From classic to trendy, you will find every sneaker under the sun at NoJo Kicks.
Dreaming of Downtown Detroit real estate?
From designer shoes and handbags to specialized memorabilia, Downtown Detroit has nearly everything you can imagine and then some. With its revitalization efforts in recent years, Downtown Detroit has become one of the shopping meccas of the Midwest. Whether you are shopping for holiday gifts or need something for yourself, you are sure to find what you need in Downtown Detroit.

*Header photo courtesy of VisitDetroit.com